Connecting with people using traditional cold emailing tactics is not only difficult but often is annoying for those you do email. There are at least two problems that come into play.
Problem #1: Lack of Targeting
Have you ever gotten an email like this?
Hey John, we saw that you were interested in XYZ! We can help you and we have some great products built for your needs. Would you like to connect? [etc etc]"
Two problems with that: First, it's likely they are sending this email from an outdated list or partnership they acquired. Second, you may have ended up on that list months ago making the content of the email no longer relevant.
People get these emails almost daily because somewhere inside BuiltWith, Data.com, Mattermark, Salesloft, etc... your email and information could get listed as having specific attributes that match their target market.
While these emails aren't exactly "spam" -- like the emails asking if I want to buy mining equipment or Viagra -- they're also not very well targeted. They are sort of in the ballpark, but the external optics of the attributes used for targeting rarely align with current needs.
Problem #2: Simply giving people an email list can encourage poor execution.
Have you ever gotten an email like this?
Hey John, following up on my last email [etc etc]"
Either this person sent no previous email and is trying to play some psychological game or they are actually following up for the 3rd, 4th, sometimes 5th time. Sometimes, these emails don't even have unsubscribe links. These people likely acquired an email list and are using a dirty hack to get your attention.
So after struggling with ways to grow other products and thinking of different growth hacking strategies, my partner and I came up with Pluck.
Who were we building this for?
The intended audience for this product was savvy sales people or growth hackers looking for a new strategy. They are content creators you might find on sites like ProductHunt or Hacker News. They would be social media savvy and understand basic marketing and lead generation strategies.
A scrappy team of two.
I worked with my partner who was the lead developer on this project. I was responsible for all branding, user flows, product design, and marketing.
Our limited budget and small team meant this had to be quickly developed to see if it had the legs to grow into something meaningful. Much of the product was built over the course of two weeks in a hackathon style of build fast, test fast.
What I did on this project.
Initially my partner put together a hack, tweaked it and started delivering emails like this:
Hey there, saw your tweet about [topic] and wanted to reach out…"
This technique yielded some staggering results:
3,000 emails sent
Over 70% open rates
Over 15% click through rates
Under 0.5% unsubscribe rates
After a few months of testing this out and seeing how powerful it is, we decided to pull the trigger and build Pluck.
We designed a process that would allow a user to enter words and phrases that we could then use to search Twitter. Once entered, we would run a job to pull data from matching profiles, mine data for names and social profiles and match that against other public databases for known emails.
We would then return tweets of matching profiles for the user to review for accuracy and approve each to be added to their contact list.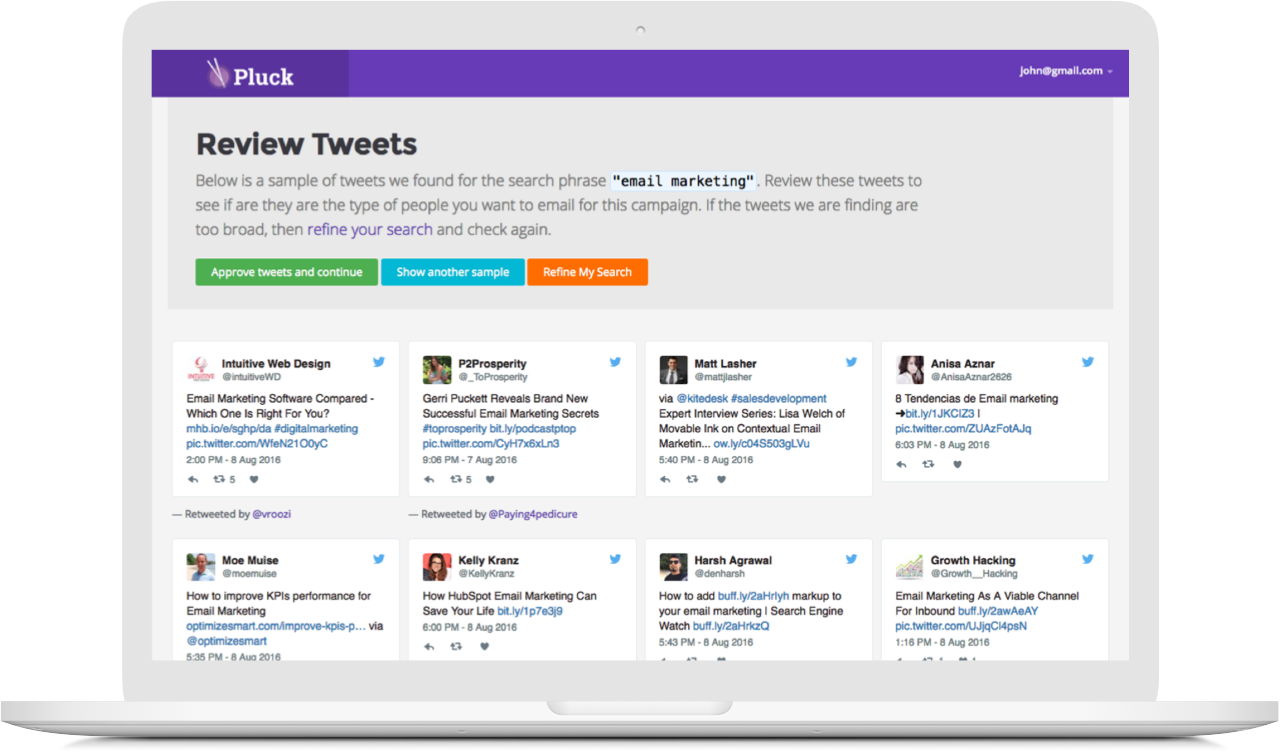 We then crafted a campaign building experience that would allow the user to send batches of highly-targeted and relevant emails based on what people tweeted. Some default email templates were created to guide users to understand what types of engaging emails they could send.
Have you ever wanted to send an email to every person who tweeted something positive about a product and you could send them a nice email in return automatically? You could do that with Pluck!"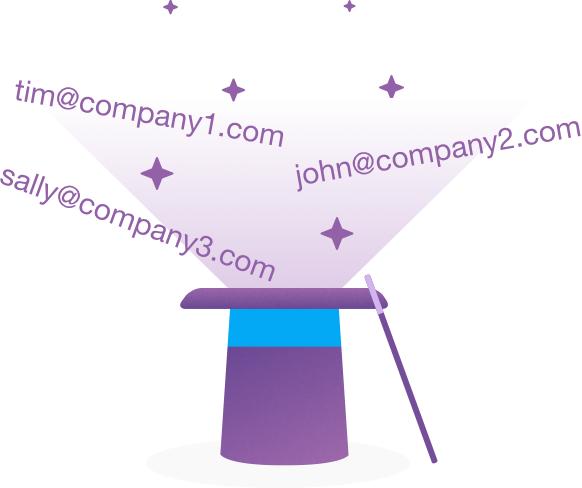 We added a few extra features to help suppress bad actors. We limited the amount of links in an email, set a content limit, limited only one email per contact unless they replied and added usable unsubscribe links. PRO users could even use email aliasing so emails came from them and not our service.
We ran tests with over 80 users, hands on, to see how they would use the product.